Often, it's our partners who give the most support if we start to need help day to day. So, it's essential that they get all the practical and emotional support they need.
If you contact your local authority and ask them to assess your care needs, they can look at support for your partner at the same time with a carer's assessment. Most local authorities offer a range of services to support carers, like temporary care for you to give your partner some time out for themselves, or details of local carers' support groups and services to lend a little help around the home.
Find out more about support for carers, including details of local groups, at Carers UK.
Care Concierge
If you'd like help to arrange temporary care at home, or a short stay at a care home, our Care Concierge service can find you the right care, quickly and easily.
Frequently Asked Questions
These can help you understand the rules for couples and what support may be available.
For as long as one of you lives in your home, its value can't be used to pay for the other person's care. If the person living at home moves out, then the your partner's share of the property can be considered from that day forward.
If your partner decides to downsize to a property that suits them better after you've moved into a home, they should be able to use some or all of your share of your home's value to cover the cost of the move. If there's any money left over, it will likely be considered as belonging to you and be used to pay for your care.
The local authority aren't allowed to consider your partner's finances when they assess your ability to pay for care. It's up to your partner whether they contribute anything from their personal finances to cover the cost.
If care is being paid for by the local authority, it has a duty to arrange a care home that meets your needs without anyone else having to contribute. But your partner can choose to chip in extra to make up the shortfall of a more expensive care home if they want to – this is called a 'third party top-up'.
If you're married or in a civil partnership, are moving into a care home and you have a private or occupational pension, you can give half of it over to your partner.
Your other half should also check whether they're entitled to any means-tested benefits. The local Adult Social Care team should be able to look at which benefits they could receive at the same time they support you to get the right care in place.
Next steps
Our Care Costs Calculator can help you understand the cost of care in your area, sources of support and different ways to pay. If you would like someone to talk in more detail about care funding, our Care Concierge team can help.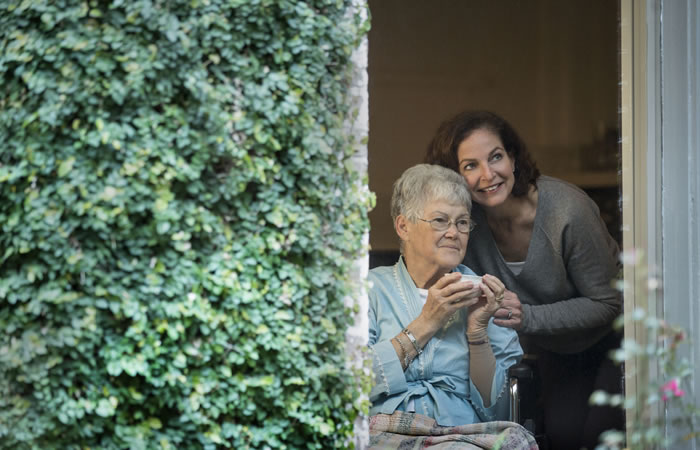 Understanding your options
While they're the most well known, care homes aren't your only option. Find out about other potential options, such as home adaptations.
Finding care
Whether you need some help at home or want to find out more about Care Homes in your area, we have information on where to search and what questions to ask.
Care Costs Calculator
If you want to find out how your care might be paid for, use our Care Costs Calculator.